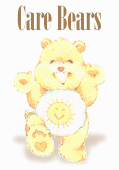 Some of the most treasured characters every created, Those Characters from Cleveland™ hit it BIG in the 1980's! "In the complex world of human communication and emotional expresion, the Care Bears bring a way to help people share their feelings with other people. Each little Bear is skilled in a very important way - he embodies a common human emotion and enables people to relate to one another on the basis of that shared feeling. They represent a unique way to tell someone, 'I know how you're feeling... I've felt that way too'" (Carebear's Online). According to Clover's Care Bear Personality test, my main Care Bear buddy is Grumpy Bear followed by Bedtime and Wish bear. I think that's pretty accurate enough for me. ;)
The more popular of the Care Bears toys were, of course, the stuffed bears because they were soft, gentle, and suitable for children of all ages. The stuffed bears were made in several styles, sizes, and sometimes the machine embroidered symbol would vary from year to year, but all were just as adorable as the other.
Click here for the Care Bear's Movie theme song!
Available Images
MOC Good Luck Bear
Poseables
Poseables
MIB Swiftheart Rabbit
Care Bear Minis
Care Bear Minis
Care Bears property of TCFC. This site does not claim ownership of these characters nor intends to profit from them.
[ Main Page ]